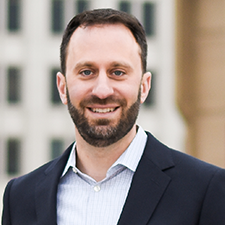 Aaron J. Lebovitz
Aaron J. Lebovitz grew up in the Midwest and moved to Northern Virginia for a job in 2004 and promptly settled in to the area. Now married with two children, Aaron calls the Washington, DC metropolitan area home despite keeping his loyalties to his hometown Kansas City sports teams.
After college Aaron worked for an automotive manufacturer whose regional headquarters was in Herndon, VA. In 2008, Aaron left to pursue his MBA at The George Washington University. Believing that he would pursue a concentration in finance, Aaron found himself drawn to Real Estate Investment and Development and never looked back.
In the Spring of 2009, Aaron started as an unpaid intern at Fraser Forbes Real Estate Services where he learned the land sales business from the ground up. Working with seasoned professionals, Aaron developed his skills and successfully brokered the sale of over $350M in land for residential and mixed-use developments during his time there.
It was also at Fraser Forbes where Aaron met Mychael Cohn and developed a strong working relationship. In April of 2017 Aaron realized the potential of working with Mychael at CPG Realty and decided to join the newly formed company. At CPG, Aaron works to further the company's mission of finding real estate investment opportunities in the Washington, DC and Baltimore metropolitan areas.  Aaron is licensed in Virginia, Maryland and Washington, D.C.