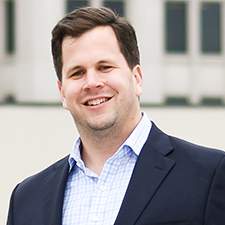 Andrew Brown
Andrew joined CPG Realty in 2017 and has since grown his real estate sales experience to over $100mm in real estate investment and land development opportunities in the Washington DC and Baltimore Metro markets. His expertise encompasses many areas including residential, industrial and commercial development, net lease properties, entitlements, zoning, and real estate underwriting.
Prior to joining CPG Realty, Andrew directed and managed his family owned land planning and surveying firm, creating a strong foundation for Andrew's understanding of the real estate development process.  Having successfully completed several annexations, rezonings, new developments and redevelopments, Andrew continues to utilize his skill set helping CPG Realty clients both minimize risk and maximize value.
Andrew served as a Planning Commissioner for the City of Frederick and currently serves on the Frederick County Board of Zoning Appeals.  He is a graduate of Georgetown University where he studied Business Management and Sociology.  Andrew resides in Middletown, Maryland with his wife and three children.  He has his real estate sales license in Maryland and Virginia.